JOYETECH - EXCEED GRIP ( SKULL STONE )
Dhs. 104.77 Dhs. 130.00

EXCEED Grip, a smart pod system based on the classic boxy style design, is compact with rich texture and colorful appearance including IML panels. Two kinds of cartridges available for your choice: one using changeable EX coil heads and the other using built-in coil system. New mesh coil and Innovative DBP technology will bring you optimal vape experience. Combined the built-in 1000mAh battery with around 4ml refillable cartridge, this device is perfect with both starter and advanced vapers.
Pocket box, Comfortable to hold
Exceed Grip is such a compact device which can fit your hand comfortably
and smartly, making it very portable in your pocket.
Long-Lasting Power and Capacity
4.5ml e-liquid capacity for Standard Cartridge and 3.5ml for Pod Cartridge, combined with 1000mAh battery capacity, you can enjoy all days.
Innovative DBP Technology
DBP, short for Dry Burn Protection, is based on Auto Temperature-Controlled technology which is the most reliable way to avoid Dry Burn issue and protect your taste.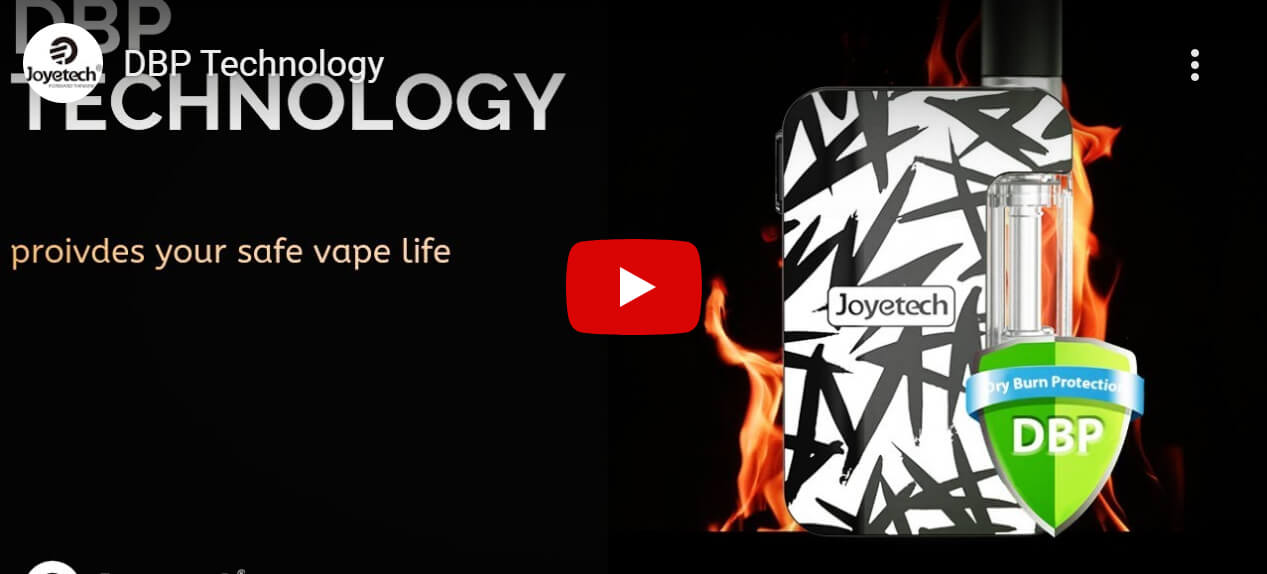 1. Indicator light flashes twice when DBP works before dry-burn hits, and cutting off output immediately. Then please observe if enough juice inside and fill in time.
2. DBP is only available for EX-M coil head and integrated MESH POD cartridge.
Optimized for Nicotine Salts with Incredible Flavor
It fits the nicotine and nicotine salts, and you can enjoy the delicate and soft flavor.
Creative Side-Way Cartridge
A new method to insert the cartridge from the side way, make people use the cartridge much more convenient.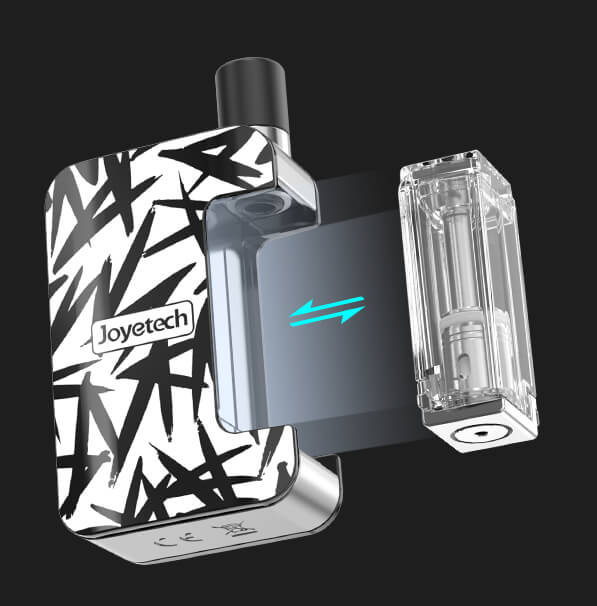 Two kinds of Cartridges for your option
Built-in coil integrated system.
Changeable EX series coil system.
( Simply unscrew the base and replace with EX head.)
Different Coil system
Standard Cartridge uses new EX-M coil head (0.4ohm) head. Pod Cartridge uses Mesh 0.8ohm coil, and ceramic coil as options. All these coil systems using new Mesh cotton as its wicking material, which is made of plant fibers and absorbs e-liquid more fully and quickly, make the flavor much more pure and decent.
Different Airflow
Standard Cartridge is best fit with DL and Pod Cartridge is fit with MTL, giving you different airflow experience.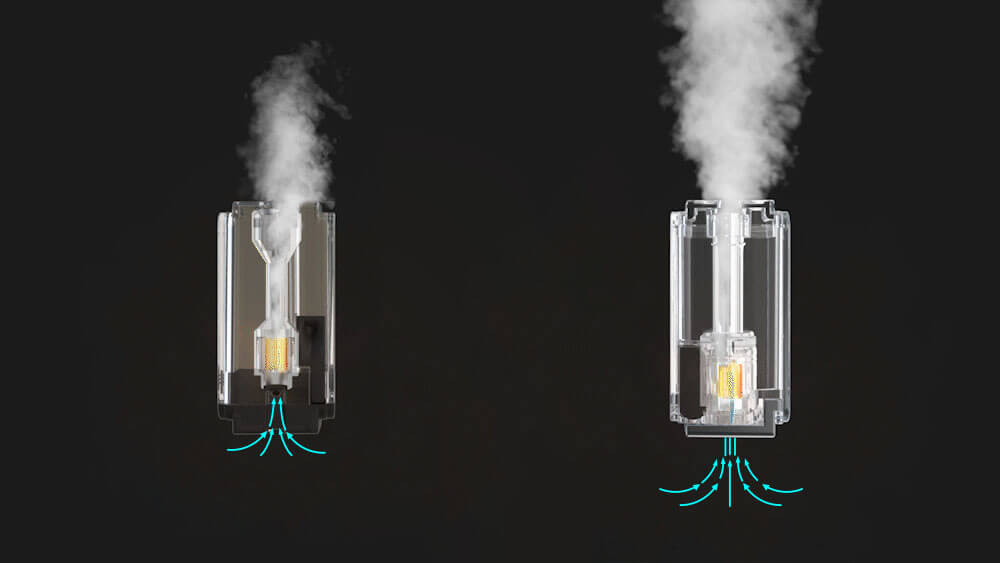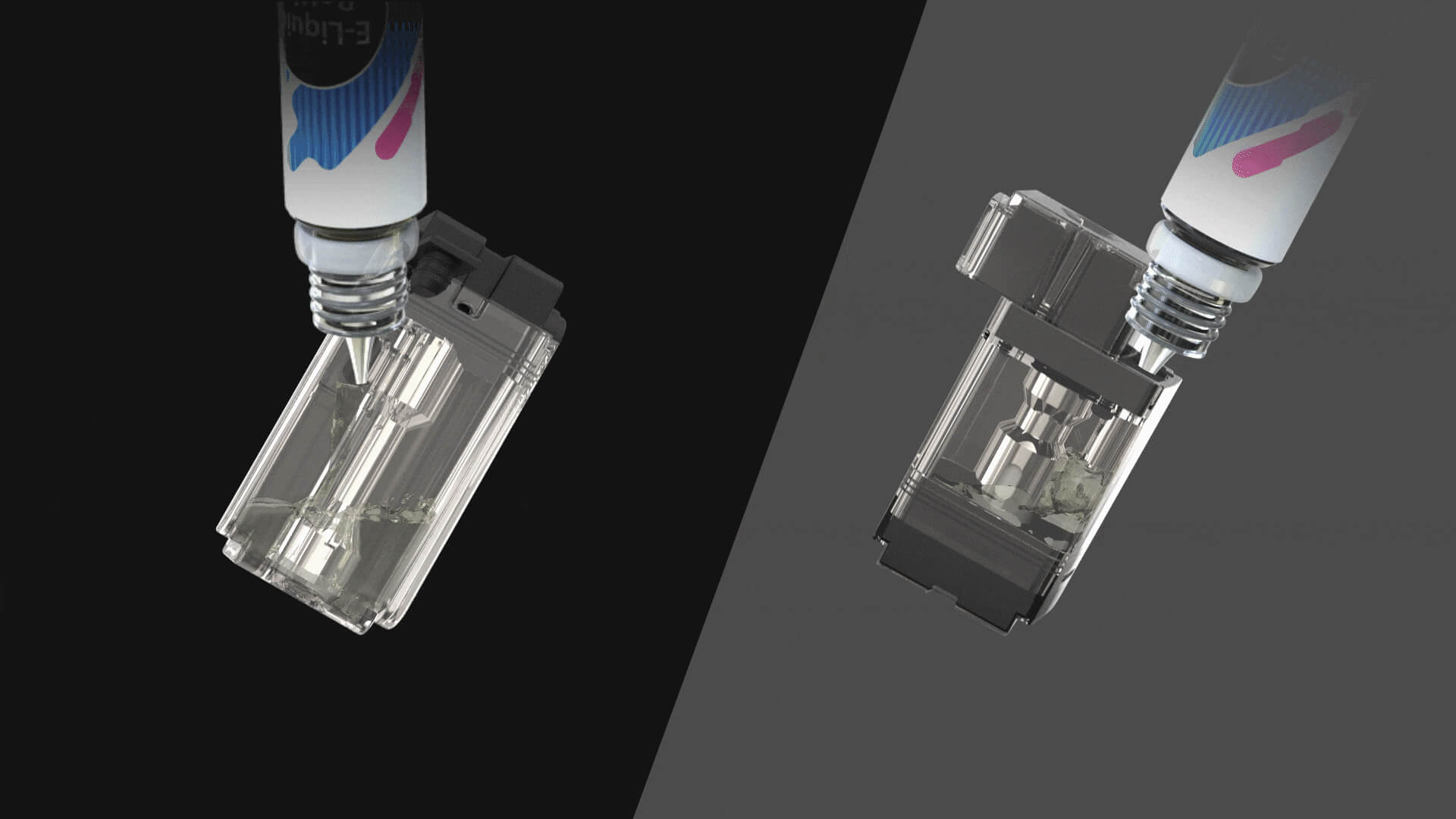 Easy to fill
Both Standard Cartridge and Pod Cartridge are refillable. Just open the stopper and inject the e-liquid into the cartridge easily. Moreover POD Cartridge (2ml version) is equipped with advanced filling system for childproof.
Multi Protections for Vaping Safety
Safety for use is always our first priority. Multi protections including overall battery protections of over-charging, over-current and over-discharging, making it more advanced and reliable. Charging & Indication
Simply charge the device by connecting it with a computer or with a wall adapter (output DC:5V) via USB cable. The light indicates red while charging and goes out after fully charged. It also indicates the battery life with different light colors as follows.
PARAMETER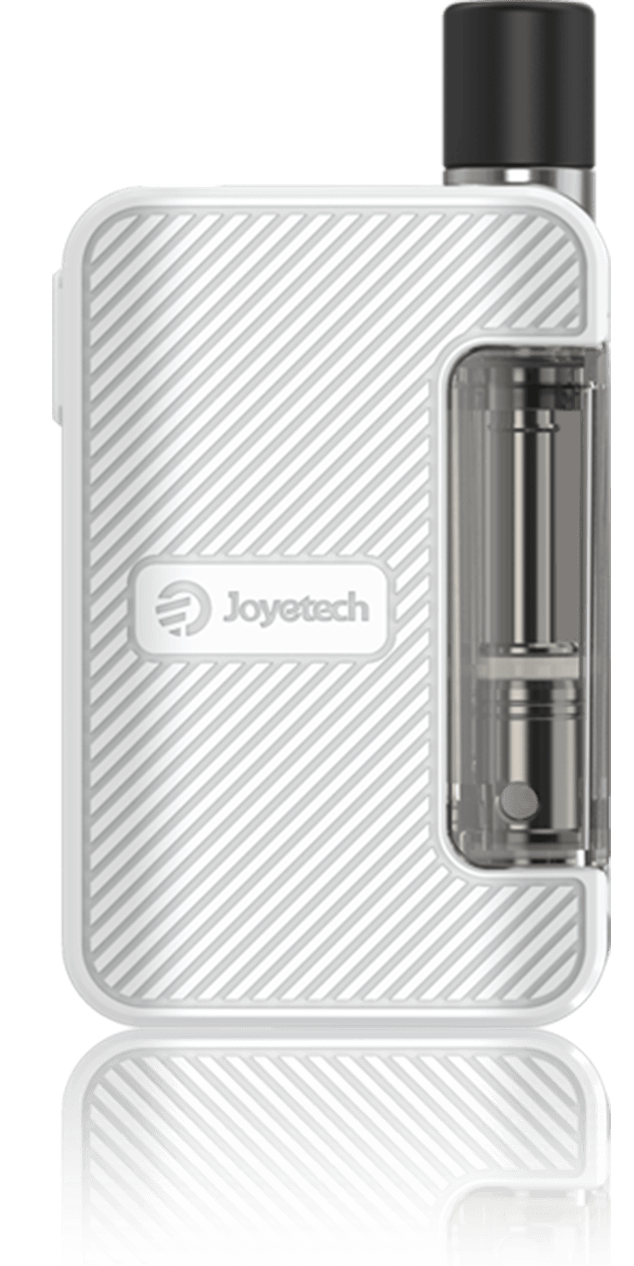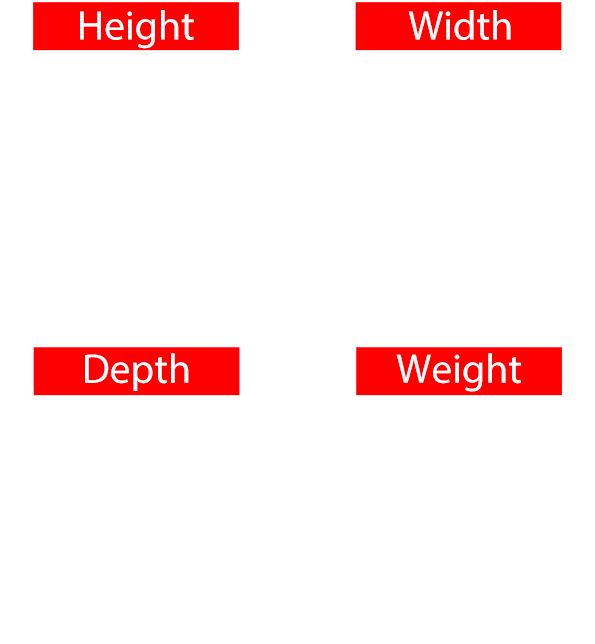 Standard Cartridge: 4.5ml/2ml
Pod Cartridge: 3.5ml/2ml
Coil head: EX-M 0.4ohm Head/EX 0.5ohm Head
EX 1.2ohm Head/EX-RBA for Standard Cartridge
0.8ohm integrated MESH coil for POD Cartridge
Battery capacity: 1000mAh
Output Mode: Intelligent variable voltage output
Colors: Black, Blue, White, Mystery Blue, Rainbow Tattoo, Skull Stone
Carbon White, Carbon Black, Fantasy Rainbow, Gradient Red, Gradient Blue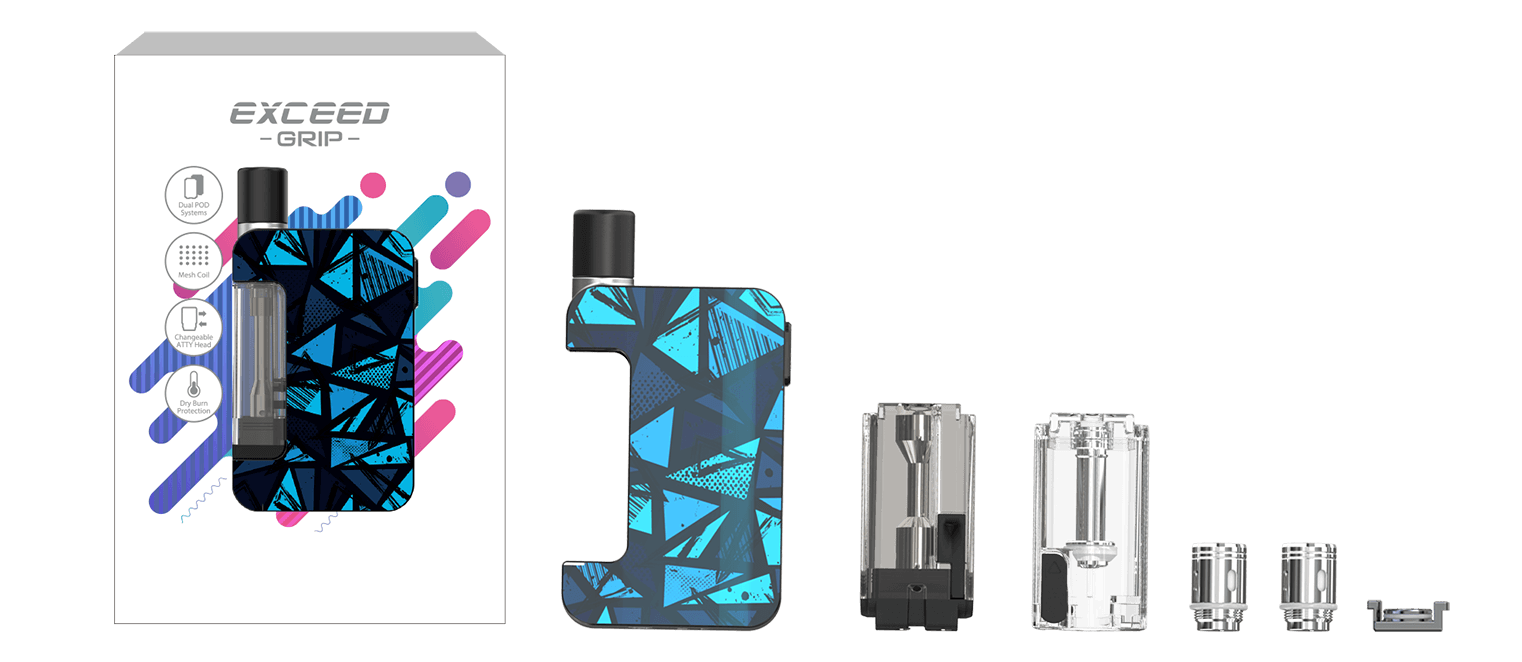 1 * EXCEED Grip Battery (1000mAh)
1 * Standard Cartridge (4.5ml)
 (EX-M 0.4ohm Coil Pre-installed)
1 * Pod Cartridge (0.8ohm) (3.5ml)
1 * EX-M 0.4ohm Mesh Coil
1 * USB Cable
1 * User Manual
1 * Warranty Card
2ml Kit (dual standard cartridge)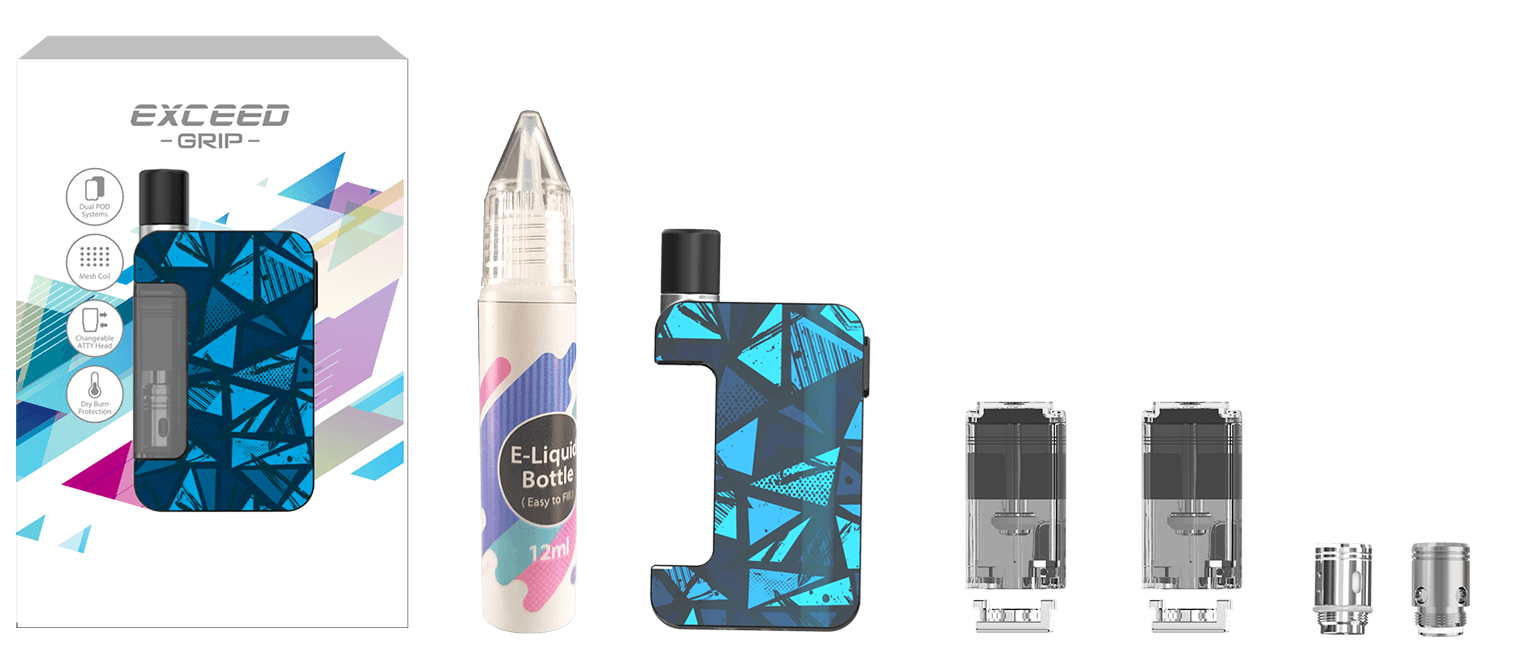 1 * EXCEED Grip Battery (1000mAh)
2 * Standard Cartridge (2ml)
1 * EX-M 0.4ohm coil head (Pre-installed in Cartridge)
1 * EX 1.2ohm Coil (Pre-installed in Cartridge)
1 * E-Liquid Bottle(12ml)
1 * USB Cable
1 * User Manual
1 * Warranty Card
2ml Childproof Kit (dual POD cartridge)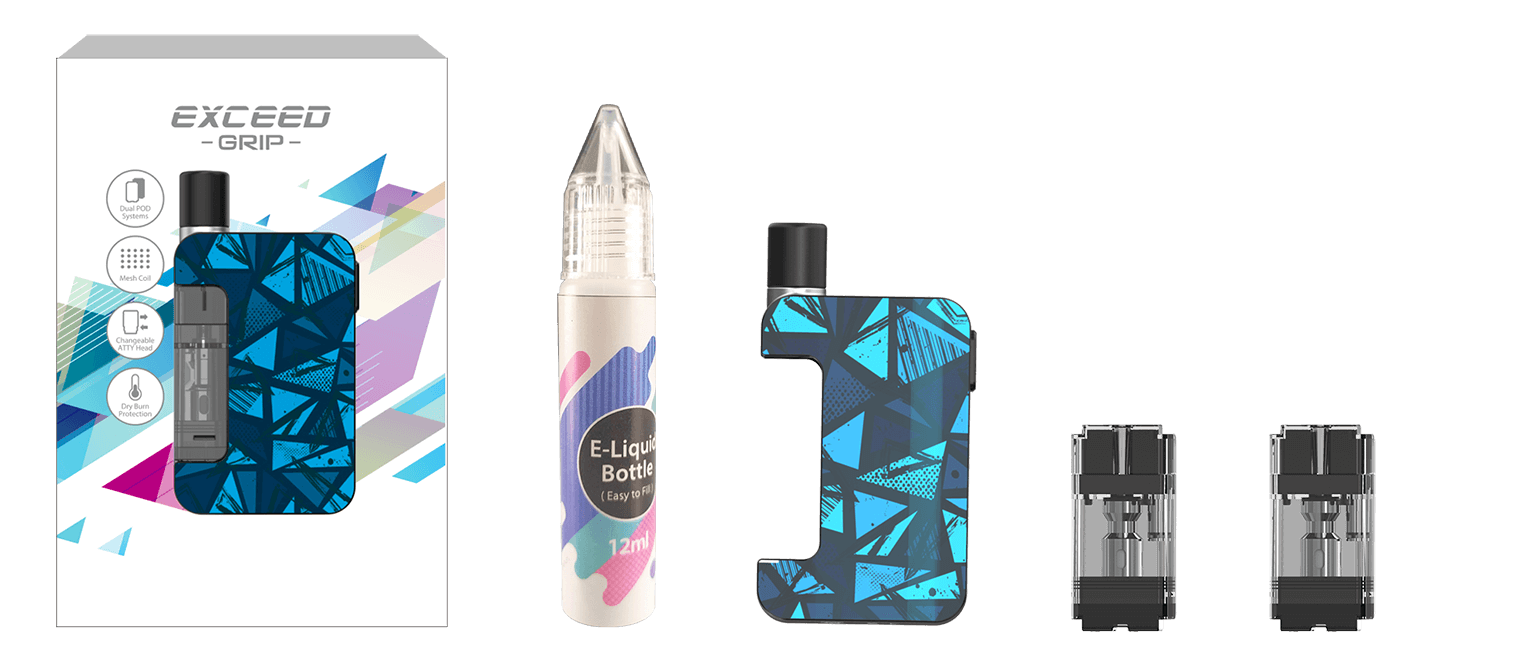 1 * EXCEED Grip Battery (1000mAh)
2 * Pod Cartridge (0.8ohm) (2ml)
1 * E-Liquid Bottle (12ml)
1 * USB Cable
1 * User Manual
1 * Warranty Card